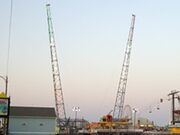 Ever wonder what it might be like to be a cannon ball? Utilizing Spring power," and steel aircraft cable, this ride will rocket you and one of your closest friends straight up at speeds of over 265 Feet 75 MPH! Don't forget to purchase a DVD of your experience!
General Information
Edit
Must be 44" tall to ride.
Further restrictions posted at the ride entrance. This ride is not included in Morey's Piers daily ride wristband and/or Season Pass program
Tickets Per Guest: 0
Price: Single Rider 30 Double Riders 50
Type Thill Rating: High

Manufacturer Funtime Handels Gesmbh

Height: 265 Feet

Speed: 75MPH

Direction: Reverse Bungee
Vehicles A Ball Vehicle
Ad blocker interference detected!
Wikia is a free-to-use site that makes money from advertising. We have a modified experience for viewers using ad blockers

Wikia is not accessible if you've made further modifications. Remove the custom ad blocker rule(s) and the page will load as expected.