Behind Mariner's Landing, guests will find action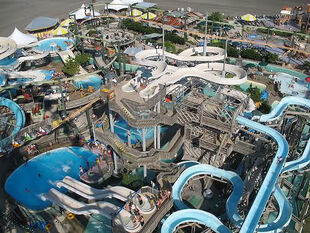 and excitement at Raging Waters Waterpark. Inspired by shipwrecks, this waterpark looks and feels like it might have just washed up one day ready for families to enjoy.Raging Waters offers two unique kiddie play areas at Shipwreck Shoals and Camp KidTastrophe along with speed slides, Shotgun Falls and an activity pool full of challenges for the whole family. Embark on an endless expedition into family fun. We've completely renovated the lazy river into River Adventure complete with geysers, waterfalls, rocks and even a snack bar that offers in-river refreshment!
Ad blocker interference detected!
Wikia is a free-to-use site that makes money from advertising. We have a modified experience for viewers using ad blockers

Wikia is not accessible if you've made further modifications. Remove the custom ad blocker rule(s) and the page will load as expected.