Children have their choice of different types of vehicles to ride in while this small carousel type ride gently rotates.
No minimum height. Child must be able to walk on their own and exhibit independent posture control (ability to sit up and hold on without assistance)
Further restrictions posted at the ride entrance.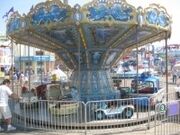 Tickets Per Guest: 3 Ride Type: Kiddie Rating: Mild Location: Surfside Pier
Ad blocker interference detected!
Wikia is a free-to-use site that makes money from advertising. We have a modified experience for viewers using ad blockers

Wikia is not accessible if you've made further modifications. Remove the custom ad blocker rule(s) and the page will load as expected.