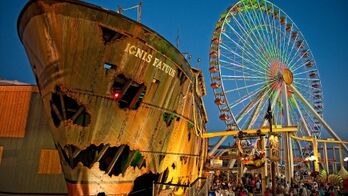 Experience the creepiest attraction on the Eastern seaboard with an upgraded, even scarier show for 2012! Come aboard the legendary cargo ship - Ignis Fatuus. Explore the menacing bowels and haunting decks of this mysterious ship. Terror lurks around every turn. Permission granted to come aboard - if you dare...
The Ghost Ship will open at 2 PM weekends and 4 PM weekdays during peak season. Operating hours subject to change.
Ad blocker interference detected!
Wikia is a free-to-use site that makes money from advertising. We have a modified experience for viewers using ad blockers

Wikia is not accessible if you've made further modifications. Remove the custom ad blocker rule(s) and the page will load as expected.