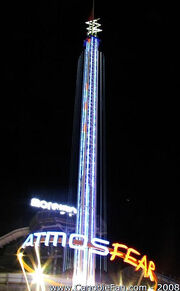 AtmosFEAR!
Ready to scream in FEAR? Think you know what to expect? Don't bet on it! AtmosFEAR is like nothing else on the East Coast. Thunderous sound effects, four different on-ride sound tracks, fog, LED lighting effects, and a 140-foot launched free fall at 50 MPH! Feel the THUNDER!
General Information
Edit
Tickets per ride: 8

Ride Type: Thrill

Rating: High

Manufacturer: Larson Intl, A.R.M. Inc.

Height: 140 feet

Free Fall Speed: 50MPH

Capacity: 12

Hourly Capacity: 360

Breaking System: Frictionless Magnetic

Opened: May 2005

Must be 48" tall to ride.
Loose articles such as cell phones, change, keys, etc MUST be left with a non-rider. Due to the design of the restraint system, large framed guests may not be permitted to ride. Further restrictions posted at the ride entrance.
Ad blocker interference detected!
Wikia is a free-to-use site that makes money from advertising. We have a modified experience for viewers using ad blockers

Wikia is not accessible if you've made further modifications. Remove the custom ad blocker rule(s) and the page will load as expected.