Adventure Pier is the third of the three piers.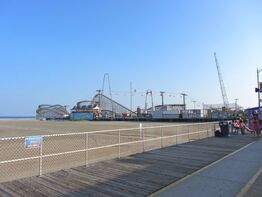 List of Rides on Adventure Pier
Edit
Grand Prix Raceway
High Flyer
Screamin' Swing
The Inverter
Apache Helicopters
Boat Tag
Chamber of Checkers
Jersey Junkyard
Mini Scrambler
Shark Bite
Snake Slide
Carousel (Adventure Pier)
Curse of the Mummy
Sky Ride
Tilt-A-Whirl
Tornado
Ad blocker interference detected!
Wikia is a free-to-use site that makes money from advertising. We have a modified experience for viewers using ad blockers

Wikia is not accessible if you've made further modifications. Remove the custom ad blocker rule(s) and the page will load as expected.